(LHR-LAWS-DSFP Loudoun Empty Bowls 2022 Press Release)
Filling Bowls for the 9th Year—Loudoun Empty Bowls Event Raises $48,000
Loudoun Empty Bowls is very pleased to announce that it has raised $48,000 from its 2022 Empty Bowls event to support Loudoun Hunger Relief,  LAWS Domestic Violence & Sexual Assault Services (LAWS) and Dulles South Food Pantry. Each of the three organizations received a portion of the event proceeds to fill the bowls of those in need in our community. The event was held on the evening of September 15, 2022 at the stunning and scenic Stone Tower Winery, the venue sponsor for the ninth year. Loudoun Empty Bowls brings together artists, who donate one-of-a-kind handmade bowls, and people who care about eliminating hunger and injustice in our community. The 2022 event sold out within hours.
Jennifer Montgomery, President & CEO of Loudoun Hunger Relief, Debra Gilmore, CEO of LAWS, and Meg Phillips, Executive Director of Dulles South Food Pantry collectively praised the effort. Ms. Gilmore said, "LAWS is so grateful to again receive support for food purchases for those in our domestic violence shelter throughout the year."
Ms. Montgomery added, "We extend our gratitude to each and every artist who contributed a bowl, truly pieces of art, to this effort. Kaarin Nelson's painting for the raffle was, as always, an event highlight. We are grateful to the event sponsors. And we thank every donor who made this event a wonderful success. LHR continues to see high need for food in our community, and these funds make a difference in the work we do everyday."
Speaking for Dulles South Food Pantry, Ms. Phillips said "Dulles South is also seeing an increase in those needing food. We are so grateful to our friends at Loudoun Empty Bowls for their contribution!"
The Empty Bowls team of Jenny Wolfer, Magen Morse, Amy Berringer, Kaarin Nelson, Kristen Swanson, Christine Kalchthaler, and Christi Palacios put together a warm and welcoming event. Their dedication and care raised $48,000 to help the people in our community who need it the most. Fund recipients are grateful to Stone Tower Winery and the Huber family for their hospitality in providing a venue, and their ongoing generosity. Loudoun Empty Bowls is truly dedicated to improving lives in our community.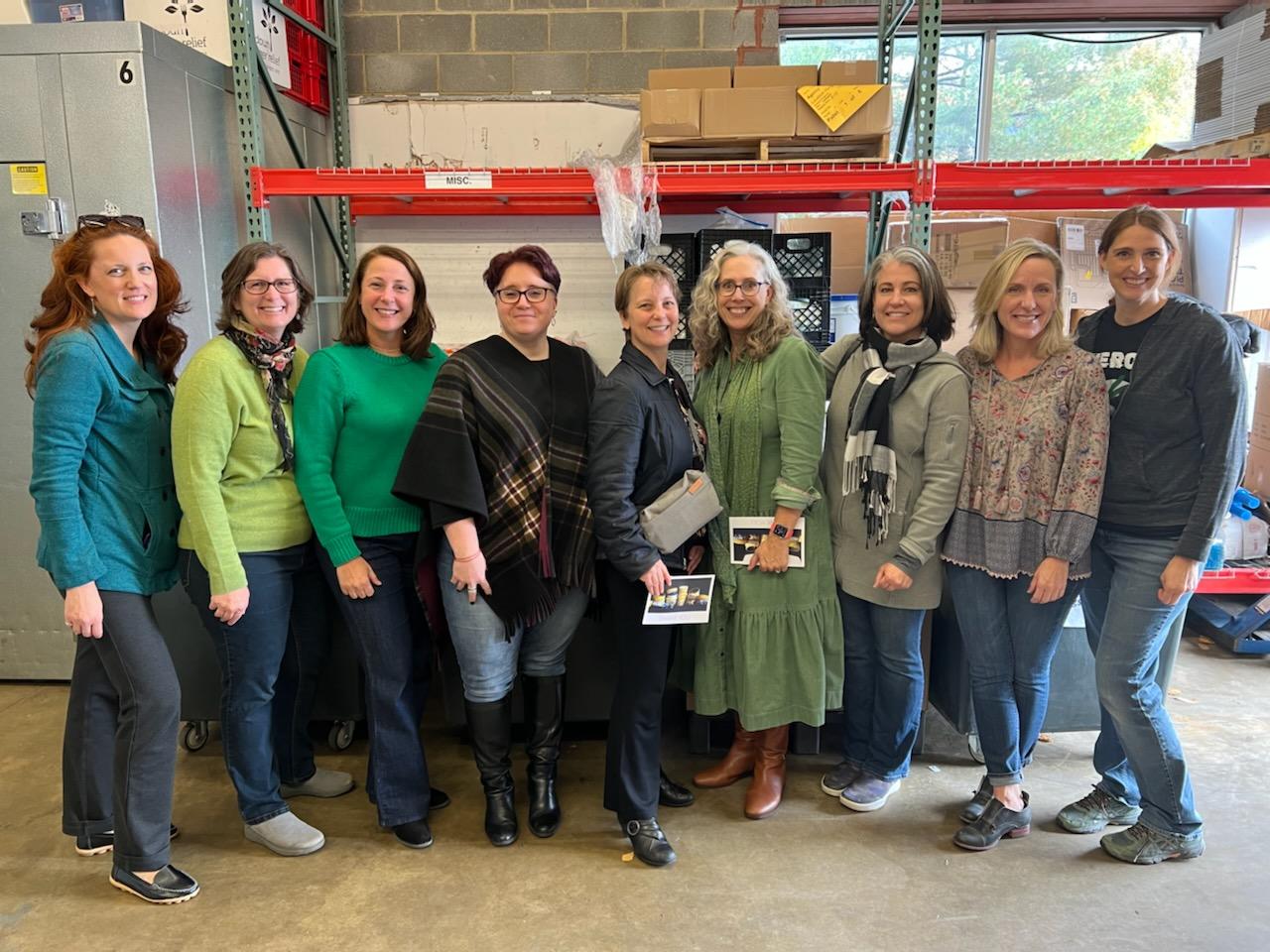 Venue Sponsor: Stone Tower Winery
Company Tables: Ariel & Jenny Wolfer; Elizabeth & Peter Seegers; Peggy Musgrave & Fortessa Tableware and Sterling Restaurant Supply; Carol Barbe & Backflow Technology, LLC; Amy Bosserman; Broglio Family; Jacobson Family & The HWS Foundation; OTJ Architects, Citi, ACI, Zoom, MillerKnoll; Kevin and Margaret Miller
Soup Donors: Leesburg Public House; Lightfoot Restaurant; Magnolia at the Mill; Salamander Inn & Resort; South Street Under; Stone Tower Winery
Dessert and Bread Donors: Jan Hyland, Natalie Metzler, Magen Morse, Amy Palmer, Angela Russell, Amber Sabin, Kathleen Salter, Robin Wilkinson, Jenny Wolfer, Kristen Swanson, Kaarin Nelson, Kristi Huber.
Additional Donors: White House Ceramics with Kristen Swanson and Carolee Stearns, Poppy Hill Ceramics, Round Hill Art Center, Clay and Metal Loft, Althouse Pottery, Chunk of Happiness, Butterlfy Bend Pottery, Leesburg Senior Center, Taylorstown Pottery, Joseph and Jessica Anderson of Moonlight Sonata; Potomac Vegetable Farm; Olga Moreno; Jennifer Bergel; Virginia Aribe; Linda Snow; Sherrie Plowman; Libby Fritsche
Other Food Donors: Costco; Food Lion; Aldi; Wegmans
Thanks are due to the many ceramic artists who participated in the effort as well as White House Ceramics with Kristen Swanson and Carolee Stearns, Poppy Hill Ceramics, Round Hill Art Center, Clay and Metal Loft, Althouse Pottery, Chunk of Happiness, Butterfly Bend Pottery, Leesburg Senior Center, Taylorstown Pottery; and additional bowl makers: Maureen Alvarez, Amy Berringer, Dasha Berringer, Karen Burkardsmaier, Bruce Bucklin, Richard Busch, Laura Hennessey, Christine Kalchthaler, Meredith Kopp, Sheila Kryston, Maggie Labillois, Bryan Mattraw, Magen Morse, Alice Mullen, Kaarin Nelson, Joanne Rodgers, Carolee Stearns, Cara Stearns, Lori Stearns, Kristen Swanson, Jenny Wolfer, Relief Society members of the Church of Jesus Christ of Latter-day Saints